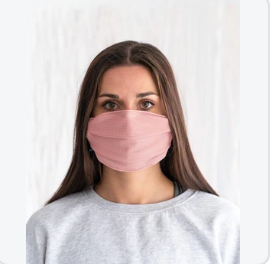 Quality washable fabric face covering made in Canada.
SALE
Adjustable face covering made of high performance materials to facilitate breathing while providing comfortable protection.
PURE 2.0 is made of high quality fabrics offering a tight protective weave . These lightweight fabrics combined with the "Silver Clear" treatment promote unobstructed breathing while providing protection equivalent to face coverings with filters. Its adjustment mechanism located behind the ears ensures that it stays in place once properly adjusted behind the earlobes and it completely covers the nose down to the mouth . Volprivé comfort and quality!
| | | |
| --- | --- | --- |
| | | |
| LIGHT | WASHABLE | MADE IN CANADA |
Why do we love this product?
Category: Class 1
Reusable: Face Covering machine washable.
Quality : The face covering retains its shape after being washed and dried.
Adjustable : Adjustable ear elastics - fit behind the earlobes.
One size and unisex : ages 12 and up. Suitable for both women and men.
Adjustment : Face covering equipped with an integrated and adjustable double metal wire for adjustment at the level of the nose in order to prevent the glasses from fogging up.
Materials

Outer side:

80% Polyester + 20% Spandex. Polyester designed for the manufacture of triathlon clothing and high performance sports.

Inner side

:

95% polyester + 5% elastane.

Fabric with antimicrobial properties with silver thread (Silver Clear treatment)

that provides an additional layer of protection.

Face covering handmade in Quebec, Canada.



Please note that

the face covering is not of medical grade and does not replace other health measures recommended by the Direction de la santé publique. In addition, it is important to wash the face covering after each use and store it in an airtight bag. This type of face covering does not protect against the COVID virus. It should not be used by children under 2 years old. It should not be placed on a person who would be unable to remove it without help from someone else or on a person who has breathing problems.
Our face coverings pair with our MEDITATION sleep masks to create the perfect travel duo. Moreover, the design of the fabric of the PURE 2.0 face coverings represents an imitation of the wool knits of our merino wool collections. It's all in the little details!
Features
CARE AND MATERIALS of the PURE 2.0 Face Covering

Wash the face covering before first use and between each use. Machine wash or hand wash in warm water. Machine dry.

Materials: Outer side 80% Polyester + 20% Spandex / Inner side 95% Polyester + 5% Spandex with "Silver Clear" silver-based treatment that helps prolong the freshness and sharpness of the textile.
DIMENSIONS AND WEIGHT of the PURE 2.0 face covering
Face covering flat: 2.5 in (edges) - 3 in (middle) x 8 in / 6.35 cm - 7.6 cm x 20.5 cm
Stretch pleat face covering - middle part: 8.27 in x 8 in / 21 cm x 20.5 cm
0.07lbs / 1.12oz
Instructions
INSTRUCTIONS for wearing the PURE 2.0 face covering
When putting it on, do not touch the inside of the mask. Put on the mask using the rubber bands , adjust them to the ears and make the adjustment at the level of the nose by molding the iron bow (double iron wires). Once the mask is in place, do not touch it. Change your face covering if possible every two hours and immediately put it in a bag until washing. After removing the face covering, be sure to wash your hands thoroughly. Class 1 fabric face covering
Delivery
CANADIAN DELIVERY
Order less than CAD$99.00, flat fee of CAD$9.99 + tax.
FREE delivery for all orders of $99.00 CAD or more before taxes.
Delivery services by Canada Post
1 to 3 business days to most cities in Quebec and Ontario
5 to 7 business days for other provinces and outside major centers
A tracking number will be sent to you so that you can track your package.
______________________________________
USA AND INTERNATIONAL SHIPPING
Shipping is free on all orders over $200.00 CAD.
For orders under $200.00 CAD:
USA: Standard fee of CAD $25.00
Europe and Israel: Standard fee of CAD $35.00
Asia: Standard fee of CAD $40.00
Customs fees or other import-related fees
We are not responsible for customs fees, import taxes or other costs associated with delivery to the USA and Internationally.
Return policy
Please note that a flat fee of $15.00 CAD will be deducted from your refund, if applicable, to cover costs related to the return form and handling.
For all exchange or refund requests related to your order, please send an email to info@volprive.ca within 14 days of delivery of the package.
Non-refundable items
For hygienic reasons, no returns or refunds will be made on the following products:
PURE 2.0 masks
COMPRESSION socks
Only items that have not been unpacked will be considered for return.
Vaut le prix !
Je vous recommande fortement ce masque de qualité ! C'est clairement le meilleur masque que j'ai essayé ; il tient bien, permet de respirer facilement et il est léger sur le visage tout en protégeant adéquatement ! Juste WOW.
Magnifique!
Très contente de mon achat! Enfin un masque de qualité supérieur.
Les meilleurs
J'ai acheté des masques de plusieurs compagnies sans être satisfaite.
Vos maques sont les meilleures, de très bonne qualité. J'apprécie les élastiques ajustables et les motifs sobres tout en étant jolis.
Double WOW !!!
Les masques de protection sont tellement de haute qualité et le choix de couleurs est varié.
Vive les produits québécois de qualité et provenant d'une compagnie « woman owned »
Le service est attentionné et rapide !
Bravo !
Très haute qualité
Le choix des tissus et le design de ce masque sont de très haute qualité. Puisque je le lave quotidiennement, il est important pour moi qu'il tienne le coup.